Click: The Calendar Girl Killer: Laughable
A perfect early 90's horror film in all the wrong reasons.
If there is a word for beyond cheesiness it would fit for this film.
What we have here is another transvestite killer with some major mommy issues. I really don't have much to say for this review, so I made a few notes for you while I watched.
Other then that, its a bad horror film. Fun if you have a pizza, beer and some friends come over to watch it but yeah other then that its pretty bad.

Some Notes While Watching! (Now with 40% Extra Denim!)
First bad line of the film, "You are gonna party to you die…keep the bubbles going". Followed by some creepy laughing.
Wow another line, this one is better! "She's a bitch…but she screws like a demon". Followed by Two 90's guys with mullets laughing.
Im going to use that line one day, somehow I will!
There is a moment when two people fall into a spa and get wet. Next shot they're dry and only their hair is wet.
Denim vest! All I see is Denim in this shitty film!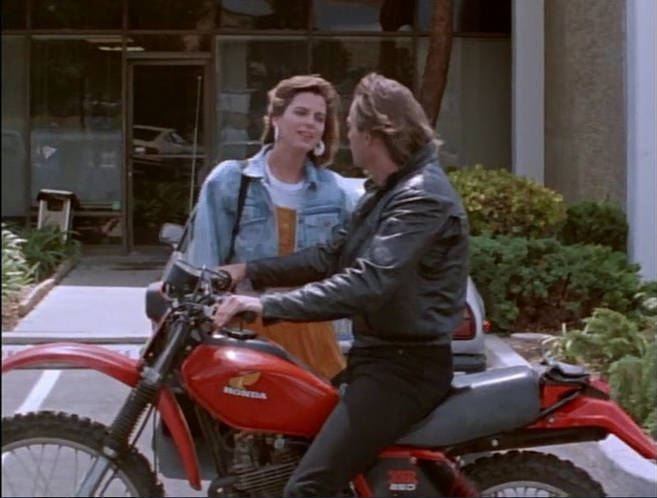 The main guy is a photographer and his camera only has one lens!
Yep the guy crosses out the victims with red ink.(Thats how you know they're dead…from being apart of this film. Hope to see my photo get crossed out with red ink soon!)
He goes to Chinatown looking for models. And apparently only finds white models. So no asian women in chinatown?… Thats kinda odd.
Stereo typical biker boyfriend with the black leather jacket, jeans and white t-shirt. Always a good sign in a film.
(Nothing happens for awhile, well something does but it goes nowhere)
90's sex scene, with 90's sex scene music!
And they have a tea kettle in front, blocking all the nudity! And yes the kettle goes off at the right "moment" of the 10 seconds of crappy sex.
Hey everyone! The killer looks like game show host Chuck Woolery!
90's poolside slow-mo oil up scene, now with more denim!
Follows 90's poolside fight scene also in slow-mo and with bad sound effects.
Finally some, Boobies!
Some stupit shit happens.
More bad dialogue.
The killer dresses up as a nurse with a wig and lipstick. It looks…bad.
He also talks. Which is clearly ADR at its worst.
More Boobies, but with strobe lights, which gets old very fast.
The strobe light is still going this time a murder is taking place which last a few mintues. Yeah a few mintues of fast flashing strobe light, I feel sick now thanks guys.
The fight scenes are soooooo bad.
Remember the main guy? The photographer with the one lens? Well it is officially the whole film, only one lens!
The killers outfit also has fake boobies and socks up to his/her knees.
The final fight scene is a "Jesus on the cross remake", yep no lie. I uploaded it so you could watch it, if you like. The Biker boyfriend knocks the killer down and thinks its over, clear it's not. The killer gets up and they both pick up torches to fight almost like a fight with swords. And thats it, it just ends.
Wow thats the film, Click…it really is bad, but funny…but still really Bad!