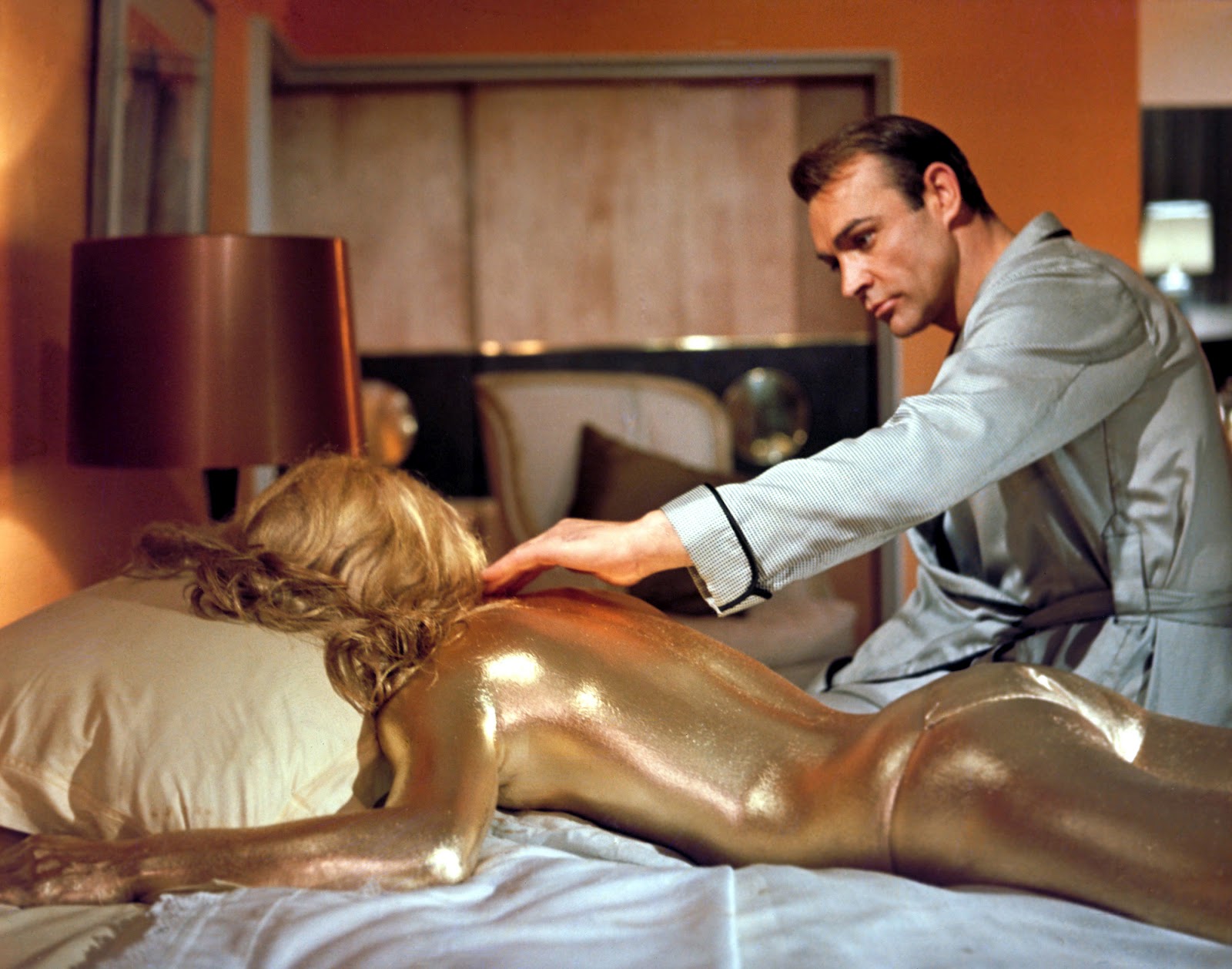 ICONIC
If you looked in the spy movie encyclopedia and searched for James Bond, the first film it would reference would be Goldfinger. It is an
ICONIC
example of the world Ian Fleming created all those years ago on the beaches of Jamaica. It is the starting point for all the other spy movies in this encyclopedia I just made up. It stars the most
ICONIC
Bond in Sean Connery. It has one of the most
ICONIC
villains in Goldfinger. It has one of the most
ICONIC
henchmen in Odd Job. It has the most
ICONIC
Bond girl in Pussy Galore. The car, the kills, the gadgets, the catchphrases, the song…all
ICONIC
. There have been many great Bond films since, but in my eyes, none have surpassed the notability of Goldfinger.
I have stressed before my belief that the best kinds of Bond girls are not just beautiful. They are not just a pawn for which Bond can casually move around for his own benefit. They are women who can hold their own with Bond physically or mentally or both. The larger the challenge they give James, the brighter he shines. Bond girls in the beginning were victims of the time. Female empowerment was rarely seen in cinema in the 60s. Goldfinger, however, manages to have two girls that bucked that trend. Jill Masterson, who has probably the most
ICONIC
fate in Bond history
, does fall into the pawn category. However, her vengeful sister Tilly does not. She makes it her life's mission to find and kill the man responsible for her sister's demise. Even if that means shooting through 007 to do it. She still pales in comparison to Pussy Galore. Pussy is beautiful, a pilot, proficient with firearms, and a judo master. The first time Bond meets her, she pushes him around at gunpoint. The next time they meet, Pussy knocks Bond on his ass and recaptures him. The next time, they both have a Judo showdown in a barn. Pussy Galore is the opposite of a pushover. Even her relationship with Goldfinger seems more like one of competitive equals than employee/employer. Pussy Galore was the benchmark Bond girl for me until
Vesper Lynd
came along. But that is a conversation for another day.
Goldfinger and Odd Job shouldn't work as villains on paper. A British born, Dutch sounding, gold obsessed, spoiled sport teamed with an Asian chauffeur who likes playing ring toss on people's heads with a lethal, metal brimmed bowler. However, they are two of the Bond franchise's most referenced villains. You've never seen a Bond retrospective without seeing
THIS
…or
THIS
. But other than
ICONOGRAPHY
, how do they stack up as villains? Goldfinger's plan is surprisingly sound, even for today's standard. Hell, a version of it was used in Die Hard With A Vengeance. He should also get props for making Sean Connery's Bond appear actually desperate. That laser scene always reminds me of
this amazing scene in Mission Impossible 3.
Goldfinger's obsession with gold falls short only to his obsession with winning. If
Francis from Pee-Wee's Big Adventure
grew up to be a Bond villain he'd be Auric Goldfinger.
A henchman's scariness and effectiveness usually depends on their commitment to their boss's cause. Suffice to say, Odd Job is committed. So much so, when the authorities begin to close in to stop a bomb he's transporting, Odd Job locks himself inside a vault with the bomb and kills a nearby henchman to make sure he won't diffuse it. He's more than a match for Bond physically and uses a weapon so implausible that it would make Q scoff. That is a great henchman.
Goldfinger is literally James Bond 101. If you ever need a refresher course on what exactly a Bond film should feel like, I advise you to …
sing along with Dame Shirley Bassey
…buy back all your gold from
this guy
…watch it…then tell me I'm wrong.