REWARDING
The road to Guardians Of The Galaxy has a been a strange one if you think about it. When Marvel's cinematic universe potentate Kevin Feige announced at 2012's San Diego Comic-Con that the next big film coming down the pipeline was going to be Guardians, many were floored. It was supposed to be a victory lap for Marvel after The Avengers changed the comic book movie genre forever…but they decided to come out with Guardians Of The Galaxy next?
Most didn't even know who the hell the Guardians Of The Galaxy were. I, being a comic book reader since I was seven, knew who they were and still was confused. The balls on Marvel. The balls indeed. This WAS their victory lap. The Avengers success allowed them to take a chance on a property that no one knew, and have it fly under the radar pressure free. And it did. Until that trailer came out. A trailer that played up the film's unfamiliarity with audience for a laugh. A trailer that showed us why Feige was so confident in the property to begin with. Guardians Of The Galaxy looked like it was going to capitalize greatly on one of the strengths of Marvel. That strength being their films are fun. It also looked as though Guardians was going to take advantage of the growing desire for a lighthearted sci-fi space adventure before even their Disney brother Star Wars Episode VII could. I mean look at this poster
If Only Serenity Came Out Now
Trailer after trailer came out, each looking better than the last. Excitement grew. Critics fawned. DC pouted. Then about two weeks before release…rumblings of worry began about Guardians Of The Galaxy possibly not living up to the hype. A film about characters no one knew four years ago was now being thought of as too good to be true. The whole thing reminds me of another risky venture that Marvel took back in 2008. And we remember how that turned out don't we?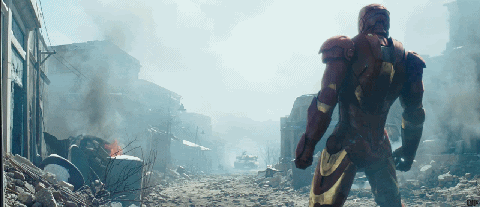 THE TANK = COMIC BOOK FANBOYS' MINDS
Guardians Of The Galaxy is merely another risky venture by Feige and the boys at Marvel. The verdict? Not only does it live up to the recent hype you've been hearing, it is possibly the most REWARDING experience you'll have in the theater all year.
So, what is Guardians about? It's about a group of emotionally scarred kindred spirits coming together to become a family. What? It is. The kindred spirits just happen to be raccoon, a tree, an earthling, a deadly alien chic, and a crazed warrior. Sure there is a plot revolving around the retrieval of a mysterious macguffin (A Favorite Trope For Marvel) and various quests for revenge. However, this is really about the unity of these characters amidst their differences and obstacles.
You may think that I am crapping on the plot of Guardians, but I'm not. I merely want to bring attention to the real accomplishment of this film. That accomplishment is the quality of these characters themselves. Each one of them are so rich and fleshed out, the story almost feels inconsequential. You'll fall in love with them equally and so deeply that you'd be willing to watch them regardless of their journey. The Guardians are as uniquely lovable as Han, Luke, Leia, Lando, Chewie, 3PO and R2 or Mal, Zoe, Jayne, Wash, River, Book, Kaylee, Simon, and Inara. And that is just on paper. You still gotta cast the thing. Thankfully Gunn and Feige knocked that out of the park as well.
Matthew McConaughey is an actor that has taken a meteoric rise over the past few years. However, his McConaugh-sance has smoke screened most from the arrival of Chris Pratt. This guy has been in projects ranging from Parks and Rec, Moneyball, Zero Dark Thirty, Her, Lego Movie and has crushed his performance each time. Peter Quill now might very well be Pratt's Han Solo role, while his part in the new Jurassic Park might be his Indiana Jones. Pratt is that magnetic and the magnetically charming throughline for this entire film. Quill could soon become a Marvel favorite after audiences get a glimpse of Star-Lord, even with Robert Downey Jr. still walking the earth as Tony Stark. It is nearly impossible not to fall in love with this character from his very first frame on screen, much like how we did with Downey Jr. in Iron Man.
Zoe Saldana's Gamora is not as entertainingly devilish as Scarlett Johansson's Black Widow. However, she has the tough task of being the film's straight man or woman as it were. Saldana is solid in the role and has undeniable chemistry with Pratt. Whenever she is given a scene to carry, she delivers. Dave Bautista was the one character that I was worried about. He essentially plays the Thor role of the team, which could be bad if done poorly. However, Gunn plays into any stilt and stiffness that Bautista could of have had and uses it as a character trait. A decision that makes Drax possibly the most humorous characters in the film. A stroke of genius if you think about. Bautista's acting, which is still quite good in this, is now nearly immune from criticism.
Diesel and Cooper make icons of their two CGI characters. Cooper especially lends something to Rocket that I never expected. He is the fan favorite master of wisecracking, of course. However, there is a very terrific and subtle thread of emotional trauma that Cooper brings to Rocket. Just one of the many examples of the detail and time that went into creating these characters. A feat completed through the writing and directing of James Gunn.
I think Gunn might be Marvel's new golden boy. I understand why there were rumors of him taking over Avengers after Joss Whedon. Gunn and Whedon's thematic voices are different, but they seem to approach the material in a similar way. They both never forget to service their characters first. They both embrace fun without letting it get too silly. And they both seem to love the material they are working with. (Trust me…that is not always a guarantee…ahem…Marc Webb…ahem…Michael Bay) Gunn brings so much life to this world, I'm amazed the budget was as low as it was. ($170 million)
With the freedom Marvel seemed to have given Gunn with Guardians and the success that I think it will be, I can only imagine what we will be in store for in the sequel.
Guardians Of The Galaxy was a high risk, but ended up becoming a high REWARD. We should all go out and claim this REWARD, and by doing so, prove that strange and different is not automatically box office poison. Hop aboard the Milano…grab a prosthetic leg…never call Drax a thesaurus…Watch it…then tell me I'm wrong. And if you don't…Peter Quill has a message for you.